Twenty Fourteen
---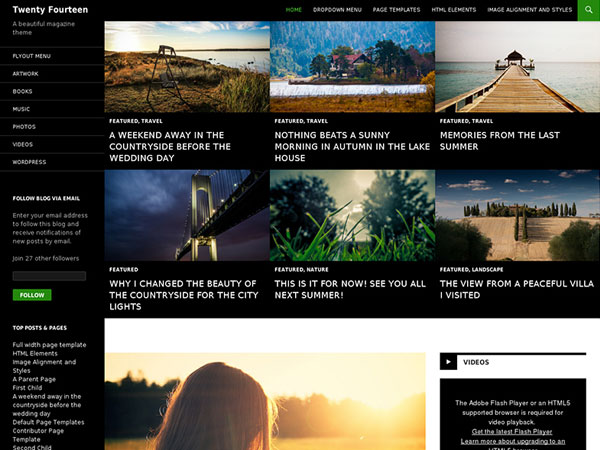 Hero Ready
This theme is Hero-ready, this means that you can easily and extensively customize its look with CSS Hero out of the box with no configuration.
Theme Editing Percentage: 90%
---
Customize this theme with CSS Hero
Theme Description
In 2014, our default theme lets you create a responsive magazine website with a sleek, modern design. Feature your favorite homepage content in either a grid or a slider. Use the three widget areas to customize your website, and change your content's layout with a full-width page template and a contributor page to show off your authors. Creating a magazine website with WordPress has never been easier.
If you use (or plan to use) this theme...
CSS Hero can help you deeply and quickly customize the Twenty Fourteen theme, solving some common issues like:
How to customize fonts in the Twenty Fourteen WordPress Theme, to make font biggers or change typeface for titles and header texts
How to change CSS background image on the Twenty Fourteen WordPress Theme and build background fades
How to customize the footer on the Twenty Fourteen WordPress Theme
How to change size of page width
How to change CSS style of top navigation buttons
Customize the CSS style of navigation menu on the Twenty Fourteen Theme
Theme Details
Theme Name:

Twenty Fourteen

Theme Type:

magazine multipurpose

Theme Page / Download: Visit Theme Page
Theme Added:

December 17, 2013

Theme Editing Percentage:

90%

Running the Twenty Fourteen Theme?

Learn how to easily customize your Twenty Fourteen powered website by visually editing each element.
You'll just need to install and activate the CSSHero WordPress plugin and when you'll trigger the CSS Hero Editor, the configuration for this theme will be automatically loaded from the cloud.