OUTDATED CONTENT NOTICE
This manual refers to CSS Hero v2.
If you are looking for the v3 manual, head over here.
Please mind that CSS Hero v3 does automatically enforce Static CSS Caching
CSS Caching will make your blog faster and reduce load on the server when your site gets many hits, as it won't have to process the dynamic css with all your site tweaks, but a plain ol' static file.
You can turn caching on visiting the Settings > CSS Hero screen in your WordPress admin panel.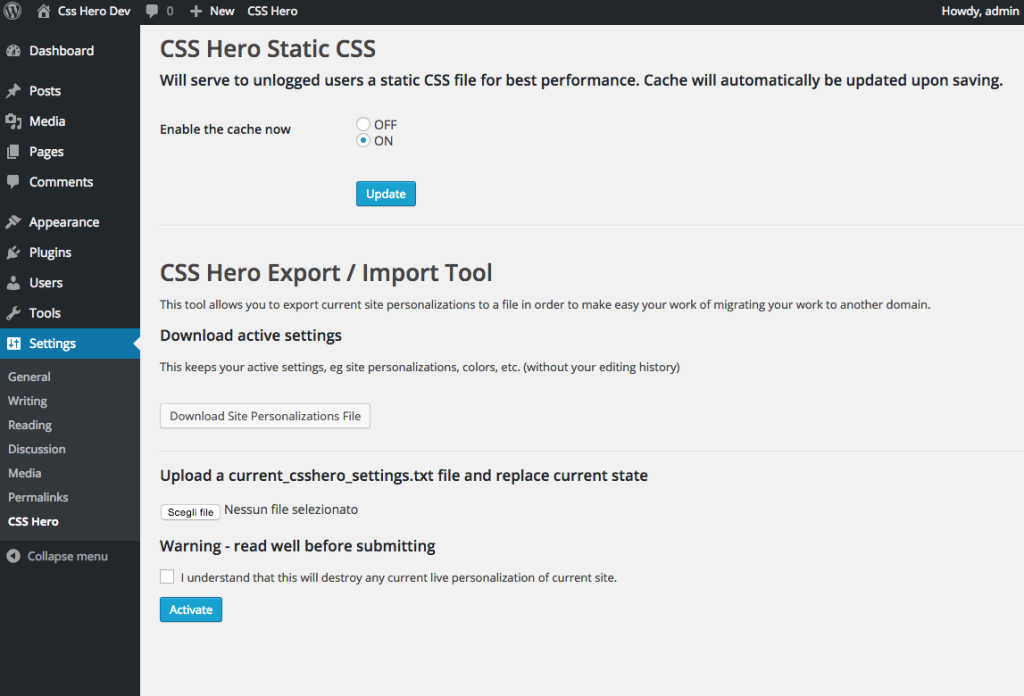 Just tick the "ON" radio button and click Update. At this point, CSS Hero will silently try to generate in your WordPress uploads folder a static css file called csshero-style.css containing exactly the same work you've done before – and by the way, no need to worry to update this file in the future as CSS Hero will automatically update it when you make new modifications from the front-end interface.
After successfully enabling the cache, you can log out from your blog – if everything looks right and you're curious enough you will see that the source HTML of your site will call the new CSS file.
Of course, your WordPress uploads directory shall be writable to enjoy all this goodness,  generally it should – provided you can upload and add images in your posts. Anyway it's an "opt-in" feature, so if you see trouble with it, feel free to disable it to restore previous functionality.