About this Plugin
Buy this Plugin with a 50% OFF using this discount code: HERO50
Growing an email subscribers list is one of the most challenging tasks for most kinds of online businesses. Often used typical tricks to grab prospect emails include offering some informational PDF or demonstrational access to a product – in exchange of the user's email.
A modern approach can be to organize giveaways, in which the user is invited to leave his email to participate, "earning" the chance to win a copy of your product or the like  – entering a sweepstake.
Organizing and promoting such a promotion becomes really much simpler using the KS Giveaways tool, developed by the awesome guys at KingSumo. This WordPress plugin allows you to go live in 60 seconds with a working giveaway – heavily optimized to maximize viral sharing.
This is what your giveaway page will look like: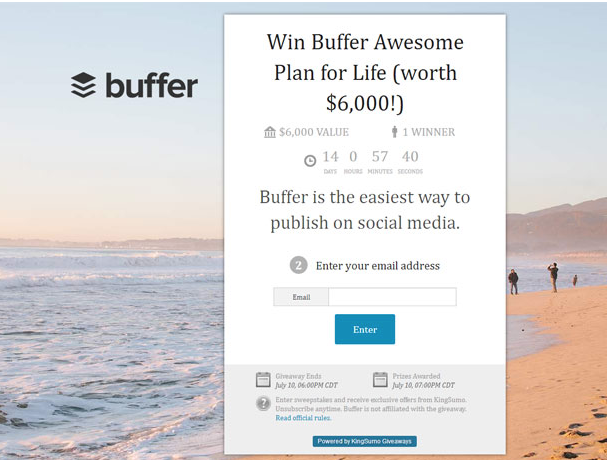 As you see, participating is very straightforward – users will just need to enter their email. A live countdown adds some action to the page to give  a more compelling feeling to the page.
As for the graphical customization of the page, you can rely on CSS Hero. In this quick video you will see how it is easy to add your personal touch to the giveaway,
If you use (or plan to use) this Plugin...
CSS Hero can help you deeply and quickly customize the KingSumo Giveaways Plugin, solving some common issues like:
How to customize fonts in the KingSumo Giveaways WordPress Plugin, to make font biggers or change typeface for titles and header texts
How to change CSS background image on the KingSumo Giveaways WordPress Plugin and build background fades
How to change colors and styles on KingSumo Giveaways WordPress Plugin