About this Plugin
Gutenberg is the New official WordPress building tool and comes bundled (by default) with the 5.x WordPress.
It will become the foundation for editing and websites across the whole WordPress platform. CSS Hero works perfect with that page builder and can be extremely useful to enhance the look of your blog or site.
Obviously Gutenberg is a totally free of charge, no freemium limit for this great visual composer. If you check on google the term Gutenberg, you will find the name of Johannes Gutenberg that was the inventor of mechanical printing press.
How to build webpages with Gutenberg?
Gutenberg is a visual page builder that uses blocks as elementary elements for building web pages.
This means that you can select a separate box for adding regular paragraphs, other for images and then another for videos. This makes the entire editing process more distinctive and easy.
We've tested all blocks and makes the customizing process exciting. Build with Gutenberg and Customize with CSS Hero all blocks.
Blocks on Gutenberg
The blocks are organised by their category:
Common blocks
Formatting
Layout
Widgets
Embeds
Common blocks
Paragraph, Image, Heading, Gallery, List, Quote, Audio, Cover, File, Video
Formatting
preformatted,
code,
Classic Edit,
Custom HTML,
pullquote,
table
verse
Layout
button
columns
media-text
more
Page break
separator
Spacer
Widgets
Widgets
shortcode
archives
categories
latest-comments
latest-posts
Embeds
Various type of embed like  twitter, youtube, facebook, instagram etc..
Customizing heading on Gutenberg with CSS Hero
You can easily re-touch the style of any paragraph or heading on Gutenberg with the speed of your mouse click. Check this quick example: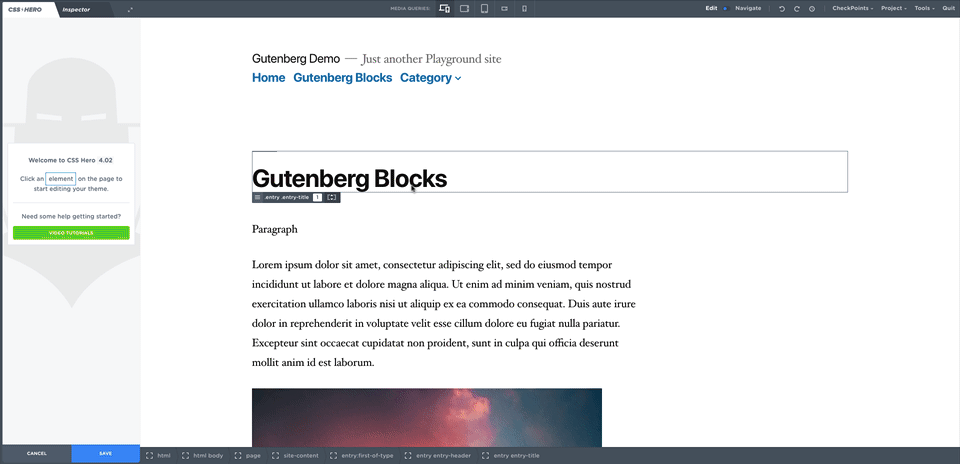 If you use (or plan to use) this Plugin...
CSS Hero can help you deeply and quickly customize the Gutenberg Plugin, solving some common issues like:
How to customize fonts in the Gutenberg WordPress Plugin, to make font biggers or change typeface for titles and header texts
How to change CSS background image on the Gutenberg WordPress Plugin and build background fades
How to change colors and styles on Gutenberg WordPress Plugin