About this Theme
The Ashe theme currently has 10.000 active installs and made it to the featured WordPress themes list. You can easily see why, great design, easy to install and a large number of options to customize it. It includes a top bar, social media icons, featured links, featured slider, a preloader and many more. The authors offer demo content you can import ( there is documentation as well ) to start learning the theme. Ashe is definitely a WordPress template you can use to create a professional blog site, there are many features built in for that but its ready to work as an eshop theme too ( WooCommerce ready ).
Main features
Featured Slider built in
Layout options for the header, slider, content, footer
Featured links area
Alternative sidebar ( extra cool )
Social media icons integrated
WooCommerce ready
Cool features
Alternative sidebar
Besides the default WordPress sidebars, Ashe offers an alternative reveal sidebar. On the main navigation there is a hamburger button for users to open the sidebar and reveal the specific widgets you chose. It looks really nice and it can be handy since it saves space from your viewport.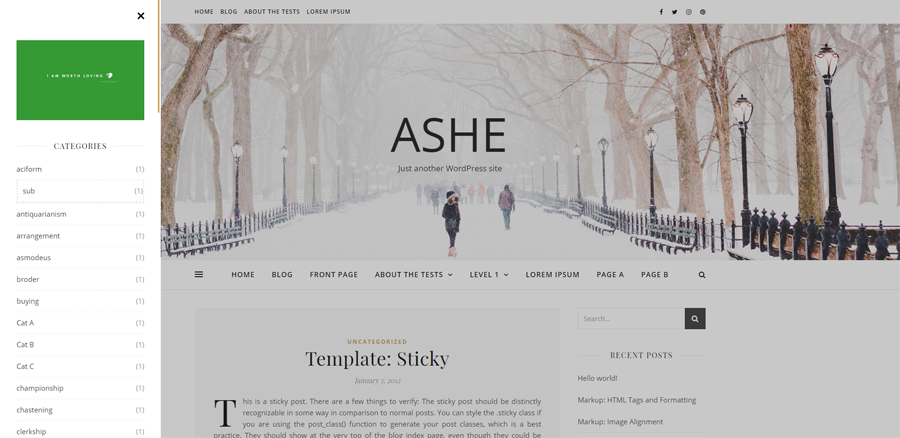 Control elements/blocks of your site
You can control the content and the layout through the customizer, make your header, slider or body full width or boxed, add/remove meta data from your posts, or disable parts of all together.
If you use (or plan to use) this Theme...
CSS Hero can help you deeply and quickly customize the Ashe Theme, solving some common issues like:
How to customize fonts in the Ashe WordPress Theme, to make font biggers or change typeface for titles and header texts
How to change CSS background image on the Ashe WordPress Theme and build background fades
How to change colors and styles on Ashe WordPress Theme
How to change size of page width
How to change CSS style of top navigation buttons
Customize the CSS style of navigation menu on the Ashe Theme
How to customize the footer on the Ashe WordPress Theme