About this Theme
Vertex is a smart, easy to use portfolio WordPress theme by Dessign Themes. The developers made sure even entry level users are able to setup their websites using the native WordPress interface and capabilities, no need to install extra required plugins to create content of different type. Vertex uses only Posts and their categories to layout the content making it dead easy ( and clean ) for everyone to start adding sliders, portfolios and of course blog posts.
The theme looks great on any device, tablet, mobile, desktop making your content accessible to your visitors, leaving a professional impression.
Main Features
Easy to use
Slider built in
4 footer widgets
Customizer options to set social media links, copyright text, portfolio headline
SEO friendly
Coded following WordPress standards, compatible with most popular plugins
Regularly updated
How to setup your content
Everything is done in the Posts area on the back end, there are three different types of posts, slides, featured and normal blog posts. To use a post as a slide, simply add the 'slide' category. The featured image will be the slide image so make sure it is a quality one and large, something like 2000×1500 pixels is perfect.
For portfolio/featured posts just add the 'featured' category, the featured image will be used on the home page, you can add as many featured posts as you like.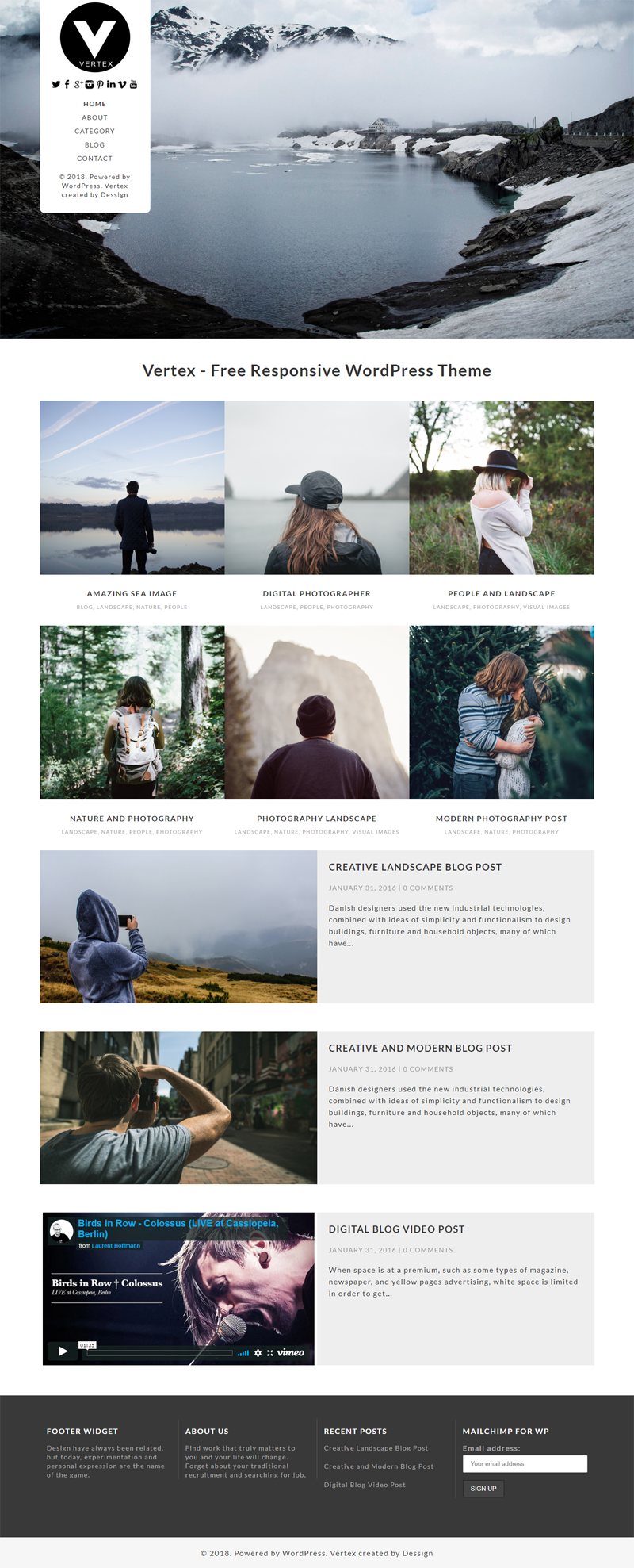 If you use (or plan to use) this Theme...
CSS Hero can help you deeply and quickly customize the Vertex Theme, solving some common issues like:
How to customize fonts in the Vertex WordPress Theme, to make font biggers or change typeface for titles and header texts
How to change CSS background image on the Vertex WordPress Theme and build background fades
How to change colors and styles on Vertex WordPress Theme
How to change size of page width
How to change CSS style of top navigation buttons
Customize the CSS style of navigation menu on the Vertex Theme
How to customize the footer on the Vertex WordPress Theme