Easily Customize WordPress Themes, live.
CSS Hero is the definitive WordPress plugin to easily customize every property of your themes with an easy and intuitive point and click interface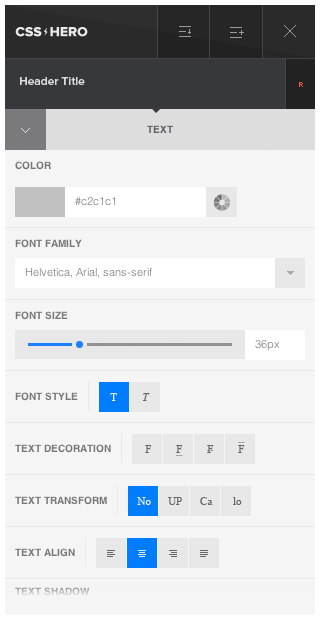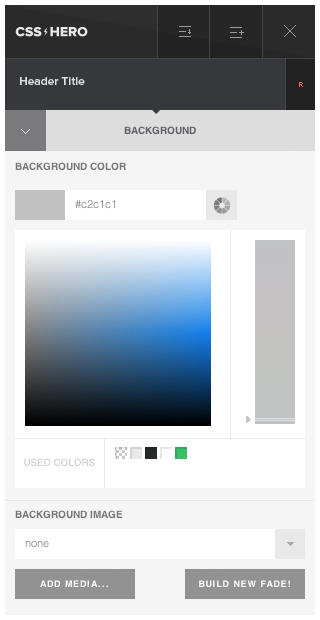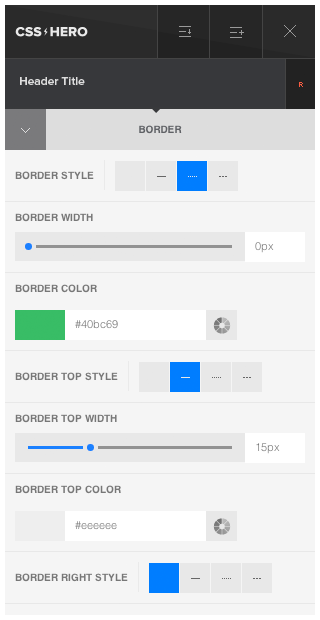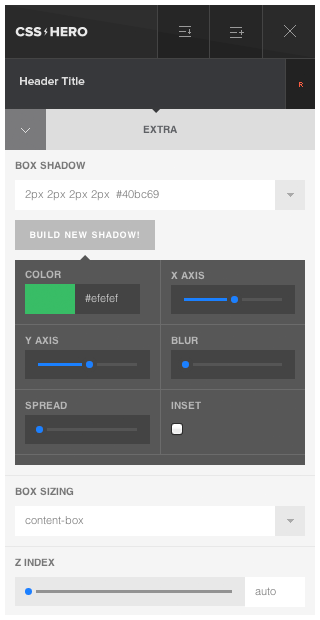 Play with tons of fonts

Add a touch of class with your own fonts, a huge collection of Google Fonts is at your fingertips.

Use your own colors

Use a color picker to experiment live color and background changes like never before.

Control all measures

Edit element sizes, margins, paddings: just drag a slider and view what happens.

Special Effects

Spice up your site elements with Hover Fx, Shadows, Transitions, and more cool stuff.
Device specific edits
CSS Hero allows you to easily edit, preview and control how your theme displays on desktop and handeld devices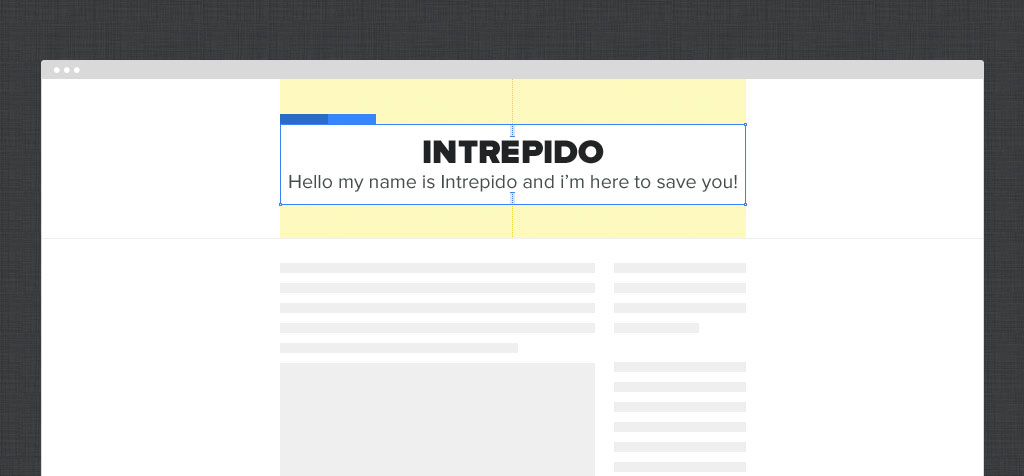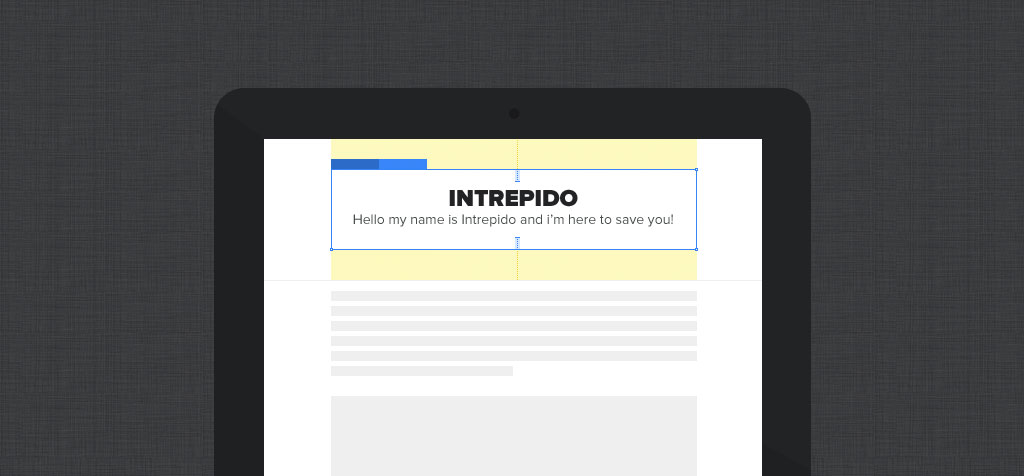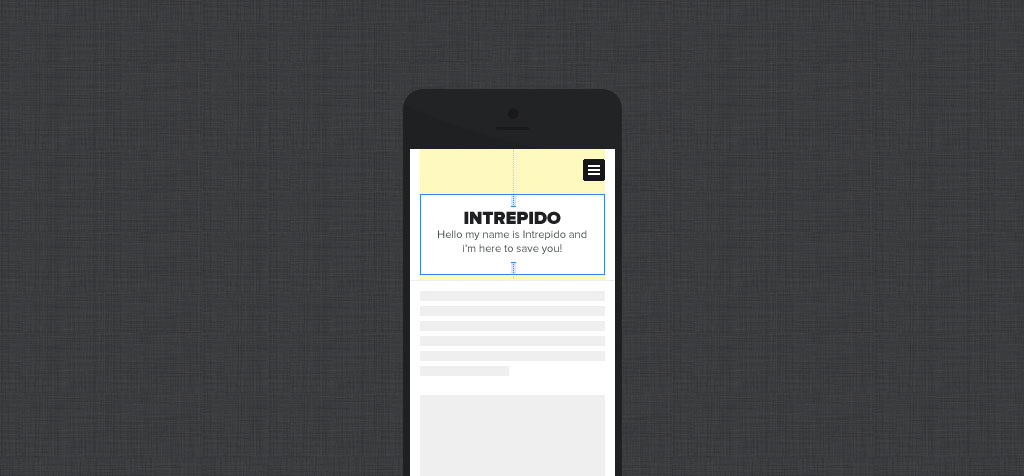 Responsive Themes Ready
CSS Hero loves responsive themes and lets you get full control of their responsive modes by allowing state specific edits.
Device Mode Preview
Preview your responsive themes with CSS Hero, test tablet\mobile edits before pushing them online, crafting a responsive theme has never been so easy.
Commit Device Specific Edits
Customize the way your theme appears on handheld device, commit device-specific edits and preview them in a click.
Early Reactions
"If you are looking for a powerful and easy to use tool to help you customize WordPress themes, allow me to introduce you to CSS Hero"

Torquemag
"CSS Hero will transform any new WordPress user to a full fledged developer"

IndexWP
"Editing the style of a WordPress Theme and performing deep CSS customizations has never been so much fun!"

Wp Daily Themes
"People with no experience of coding the design of their blogs appearance will manage to use it with ease"

Mammasaurus
Pricing Plans
We have 3 different pricing plans. Start live-editing your site today!
Starter

29

$

1 Installation

Price Per license:

9.5

$
CSS Hero Plugin
Instant CSS Export Feature
1 Year Free Updates
Personal

59

$

5 Installations

Price Per license:

11.8

$
CSS Hero Plugin
Instant CSS Export Feature
1 Year Free Updates
Dev

149

$

25 Installations

Price Per license:

5.96

$
CSS Hero Plugin
Instant CSS Export Feature
1 Year Free Updates
A powerful toolkit
CSS Hero allows you to easily edit, preview and control how your theme displays on desktop and handeld devices
CSS Hero WYSIWYG Editing Interface
Full editing Undo History
Intelligent Color Picking
Text Shadow & Gradient Generator
Built in Google Fonts support
Responsive Editing
Instant CSS Export Feature
Themes Configuration API
1 Year of Free Updates

Common pre-sale questions
I'm a Web designer. Will CSSHero be addictive?
Yes, definitely. Once you discover how much fun you will have with this tool, you will become a Hero-junkie too.
For some it's the WYSIWYG live CSS customization, for other folks the effective color management, the ability to test background image uploads or save, store, rename editing history steps. We want you to be hooked on Hero!
What if I make a mistake? Do I risk messing up my site? Is CSS Hero solid?
A full history is maintained of all your edits – thus you can preview and recall instantly all the versions of your Hero-generated CSS.
You can always undo with CSS Hero – and you can even reset single properties, so that if you made a wonderful job of personalizing your site, but you have messed the site header for example, you can always reset that element only – so that your personalizations are erased and the element will revert to the original Theme definition.
Basically, you should never be in trouble.
The data is stored securely on your site.
No Vendor Lock-in – you can export your code!
If you want to disable the plugin and export your work, a one-click instant CSS export feature is at your hand.
What can I exactly do with CSS Hero?
CSS is the language that enables internet websites look different; CSS Hero is a convenient WYSIWYG Theme editor for WordPress that will help you making visual changes to your website with a point and click interface, instead of coding; CSS Hero will automatically generate the required CSS code, and deploy it to your website upon saving.
A clean visual interface will let you leverage advanced CSS features like  background fades in  a snap, and is full of small helper tools which will make your life easier removing the need to remember values, copying and pasting color codes. You will find almost all CSS properties in CSS Hero, with preset properties, color pickers, shadow generators…you can instantly try everything pushing further your CSS knowledge boundaries.
If you are a newbie or a CSS pro, you will love what you will be able to do with CSS Hero.
Enter the CSS revolution. You will not go back!
What is CSS Hero? How does it work code-wise?
CSS Hero is a live WordPress Theme editor that works without modifying any of your theme files.
It is widely compatible with many environments and it is built to be light and tolerant; it comes pre-configured to run natively on a number of WordPress Themes, but can be used to edit any WordPress Theme after a simple configuration, that involves declaring the CSS selectors of the elements that you want to make editable.
CSS Hero only generates and enables an extra CSS stylesheet that cleanly overrides your Theme's original stylesheet.